News
KWALIFIKACJA STYPENDIALNA BAS NA LATA 2020-2022
DWA LATA NAUKI W ANGIELSKIEJ SZKOLE Z INTERNATEM!

UWAGA! W tym roku ubiegają się o miejsca WYŁĄCZNIE uczniowie klas I LO, którzy ukończyli gimnazjum w 2019.

Stowarzyszenie Absolwentów Uniwersytetów Brytyjskich (British Alumni Society) ogłasza kolejną turę kwalifikacji stypendialnej dla licealistów we współpracy z Podyplomową Szkołą Nauk Społecznych przy IFiS PAN, pod podwójnym patronatem Oxford and Cambridge Society of Poland oraz Oxford University Press. Można ubiegać się o miejsca w następujących szkołach:
Adcote School for Girls – 2 miejsca, mogą kandydować tylko dziewczęta (szkoła żeńska)
Bedstone College – 1 miejsce, mogą kandydować chłopcy i dziewczęta
Ellesmere College – 1 miejsce, mogą kandydować tylko chłopcy (szkoła koedukacyjna)
Farringtons School – 1 miejsce, mogą kandydować chłopcy i dziewczęta
Mayfield School – 3 miejsca, mogą kandydować tylko dziewczęta (szkoła żeńska)
Rye St Anthony – 1 miejsce, mogą kandydować tylko dziewczęta (szkoła żeńska)
Tettenhall College – 1 miejsce, 1 miejsce, mogą kandydować chłopcy i dziewczęta
Windermere School – 1 miejsce, mogą kandydować chłopcy i dziewczęta
Wrekin College – 2 miejsca, mogą kandydować tylko dziewczęta (szkoła koedukacyjna)

Liczba dostępnych miejsc może ulec zmianie. Nowe miejsca będą na bieżąco zgłaszane.
Stypendium obejmuje czesne, zakwaterowanie i wyżywienie podczas dwóch ostatnich lat nauki. Uczniowie pokrywają jedynie koszty dojazdów, mundurków, kieszonkowego oraz tak zwane extras (opłaty egzaminacyjne, drobne wydatki związane z wspólnymi wyjściami całej klasy lub szkoły do kina, teatru, itp). W zależności od profilu szkoły nauka kończy się egzaminami maturalnymi w systemie angielskim A-level lub IB (matury międzynarodowej).

Kandydaci muszą spełniać następujące warunki:
wiek: 1 klasa LO;
obywatelstwo polskie, stałe zamieszkanie w Polsce i nauka w polskim liceum ogólnokształcącym;
znajomość języka angielskiego w stopniu umożliwiającym podjęcie nauki w środowisku anglojęzycznym;
wyniki egzaminu gimnazjalnego min 80%; (średnia z egzaminów z polskiego, matematyki, historii i nauk społecznych, nauk przyrodniczych. Wynik egzaminu z języka nie jest brany pod uwagę. )
średnia ocen na świadectwie ukończenia gimnazjum minimum 4.80;
udokumentowane osiągnięcia pozaszkolne, jak np.: sukcesy sportowe, artystyczne, olimpiady, itd.;
dochód rodziców nieprzekraczający łącznie 130 000 PLN netto w roku 2018 (w ostatnim rozliczonym roku podatkowym)

Wymagane dokumenty:
wypełniony, podpisany formularz aplikacji z poświadczeniem ocen z ostatniego semestru i dwiema opiniami nauczycieli z obecnej szkoły (w jęz. angielskim lub z dołączonym tłumaczeniem );
kserokopia świadectwa ukończenia gimnazjum;
kserokopia wyników egzaminu gimnazjalnego;
osobiście przygotowane CV w języku angielskim;
osobiście przygotowane dossier zawierające kopie dokumentów ilustrujących aktywność pozaszkolną i szczególne osiągnięcia kandydata;
poświadczenie wniesienia opłaty manipulacyjnej w wysokości 50 zł; dane do przelewu
zgoda na przetwarzanie danych osobowych dla celów kwalifikacji stypendialnej;
deklaracja podpisana przez rodziców, stwierdzająca, że ich łączny dochód roczny netto w roku 2018 nie przekraczał 130.000 PLN.

Zgłoszenia podlegają wstępnej selekcji. Najlepsi kandydaci zostaną zaproszeni na rozmowę kwalifikacyjną w Warszawie, która odbędzie się w dniach 18 i 19 kwietnia 2020 patrz Regulamin Kwalifikacji BAS 2020. Zgłoszenia, z dopiskiem na kopercie: BAS Scholarships, należy przesyłać na adres:

British Alumni Society
(Fundacja British Council)
Ul. Koszykowa 54,
00-675 Warszawa

do dnia 20 lutego 2020 (decyduje data stempla pocztowego.) Szczegółowe informacje, regulamin konkursu, formularz aplikacji, dane do przelewu i wzory deklaracji znajdują się na stronie www.bas.org.pl

Kontakt: marzena.reich@bas.org.pl, tel. +48 665 65 85 25

Doroczne Targi Uczelni Brytyjskich
British Council zaprasza na doroczne Targi Uczelni Brytyjskich, które będą się odbywały w Gdańsku, Warszawie i Krakowie w dniach 20, 21 i 22 listopada. W Krakowie i Warszawie BAS będzie miał swoje stoisko, gdzie m.in można będzie dowiedzieć się więcej o programie Stypendia BAS.
Szczegóły i rejestracja: https://www.britishcouncil.pl/events/targi-uczelni-brytyjskich-study-uk-2019

Szczegółowe informacje są dostępne także na stronach FBookowych :

Wydarzenie na Facebooku – Gdańsk:
https://www.facebook.com/events/1906394546129649/

Wydarzenie na Facebooku – Warszawa:
https://www.facebook.com/events/509483186552937/

Wydarzenie na Facebooku – Kraków:
https://www.facebook.com/events/528068897994975/

The Start up Society stages another pre-election event
The Start-Up Society, young people's initiative BAS is proud to support, staged a pre-election event again. On 8 October, they organised another meeting with five candidates for parliamentary seats, representing all major contenders from the political spectrum:
Magdalena Biejat, Lewica
Emil Sawicki , PSL
Jan Strzeżek ,PiS
Michal Szczerba , KO
Wojciech Ziółkowski, Konfederacja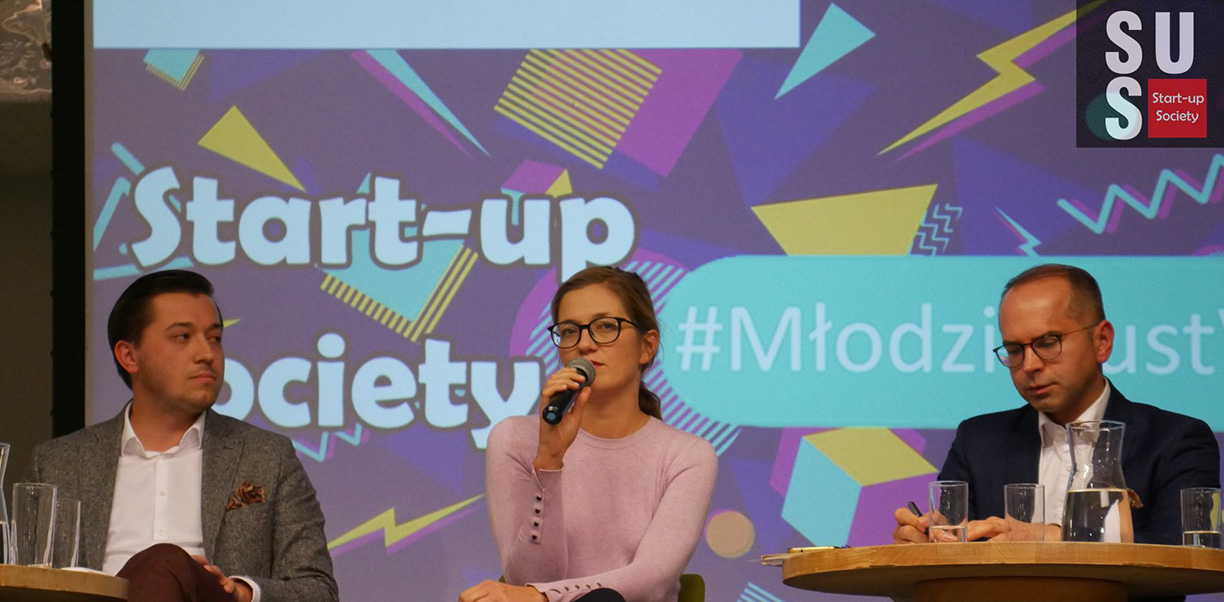 Pola Lis and Maciej Wroblewski acted as anchorpersons, and managed the lively discussion in which the audience often seemed better informed than the prospective MPs.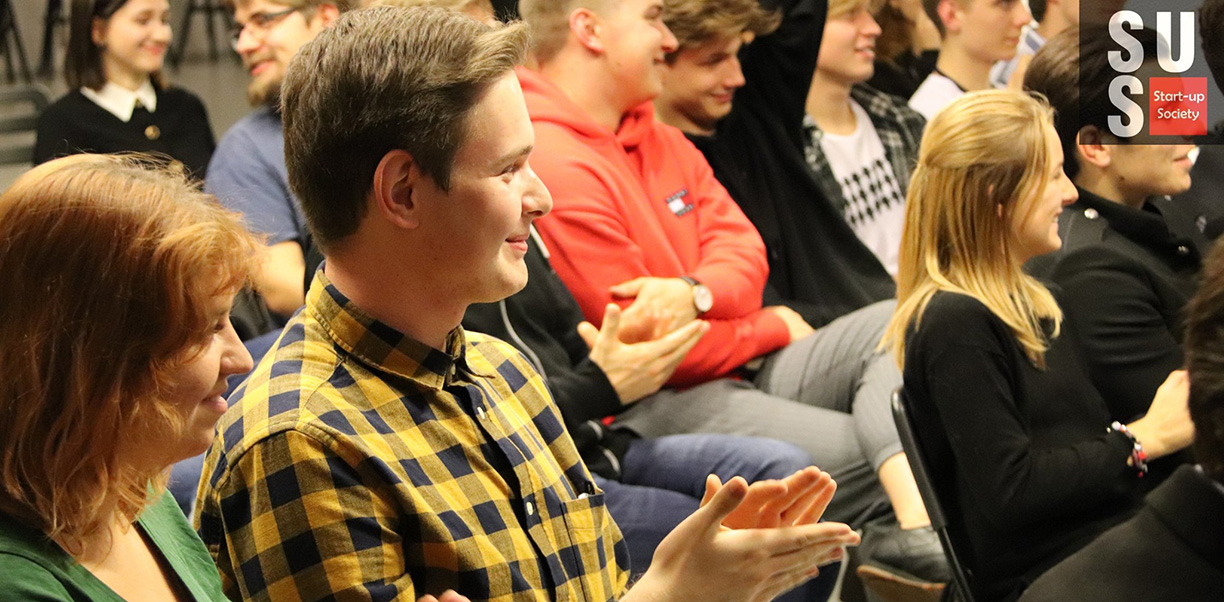 It was good to see the hall well filled with young people so keen to have their say. And it was also good to later see two of our guests: Magdalena Biejat and Michal Szczerba elected .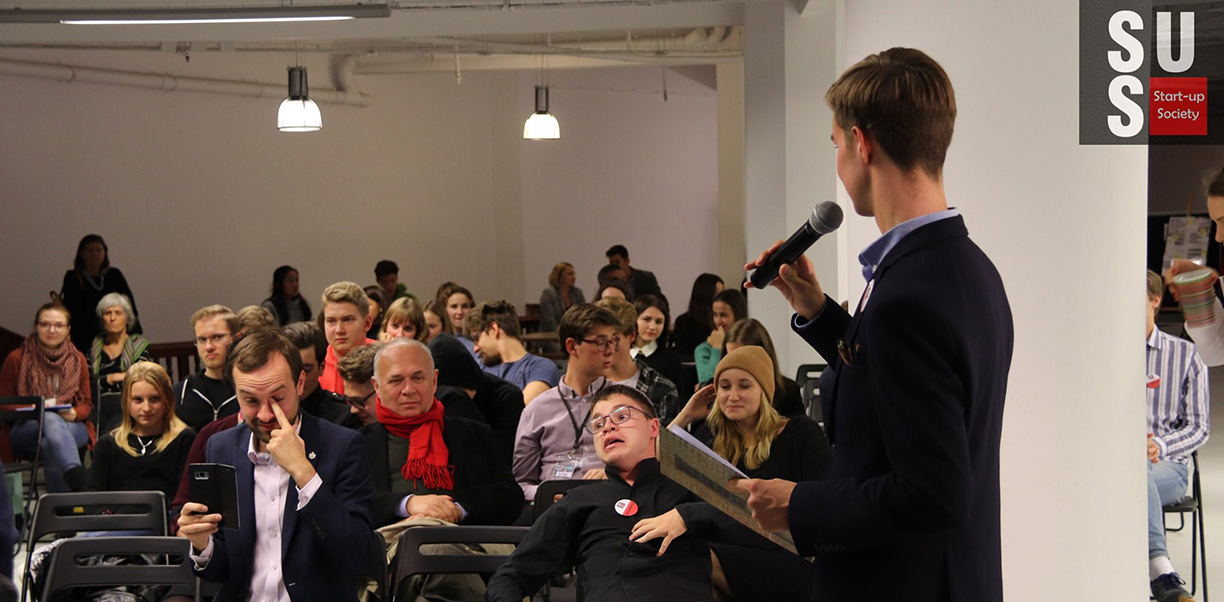 Opening Debate of the new Debating Season
BAS has recently become the organiser of "Impact" debates ("Zderzenia") in Teatr Polski. The new debating season started on 27 September as one of the events of the "Festival of Science", now an established tradition. With this development, BAS is now saying good bye to the University debates after five happy years. We wish to thank all our sympathisers and well wishers, for following our endavours throughout that time.
Our new valuable PartnerChevening Alliance, inaugurated the new season, and its Director, of the Secretariat Ms Miranda Thomas appeared on the screen with the introductory speech. The Proposition : "Exculpate the Middle Ages" inspired a spirited debate that can be watched here:
https://www.youtube.com/watch?v=GABok77fB0o.
https://www.facebook.com/greg.nawrocki/videos/10220516128676961/
The proposition won.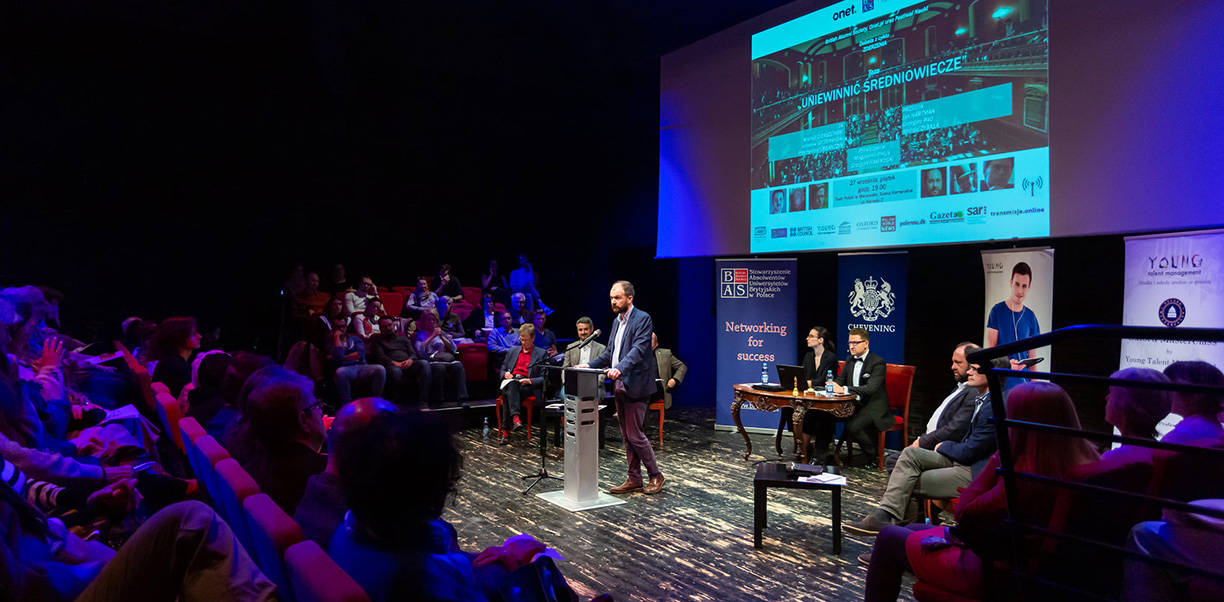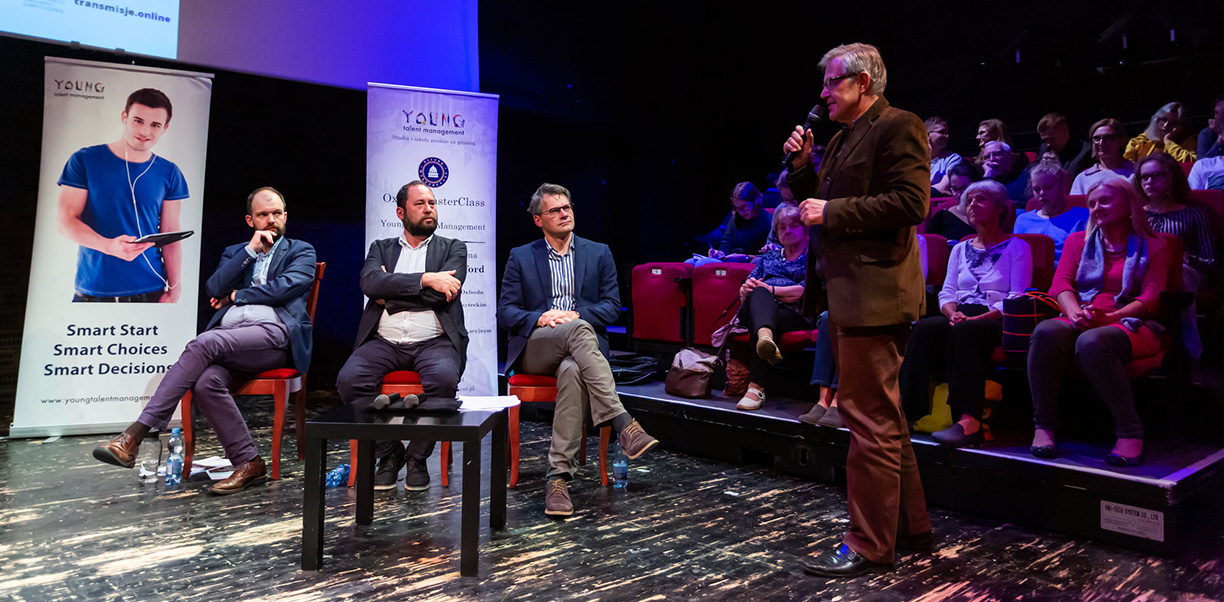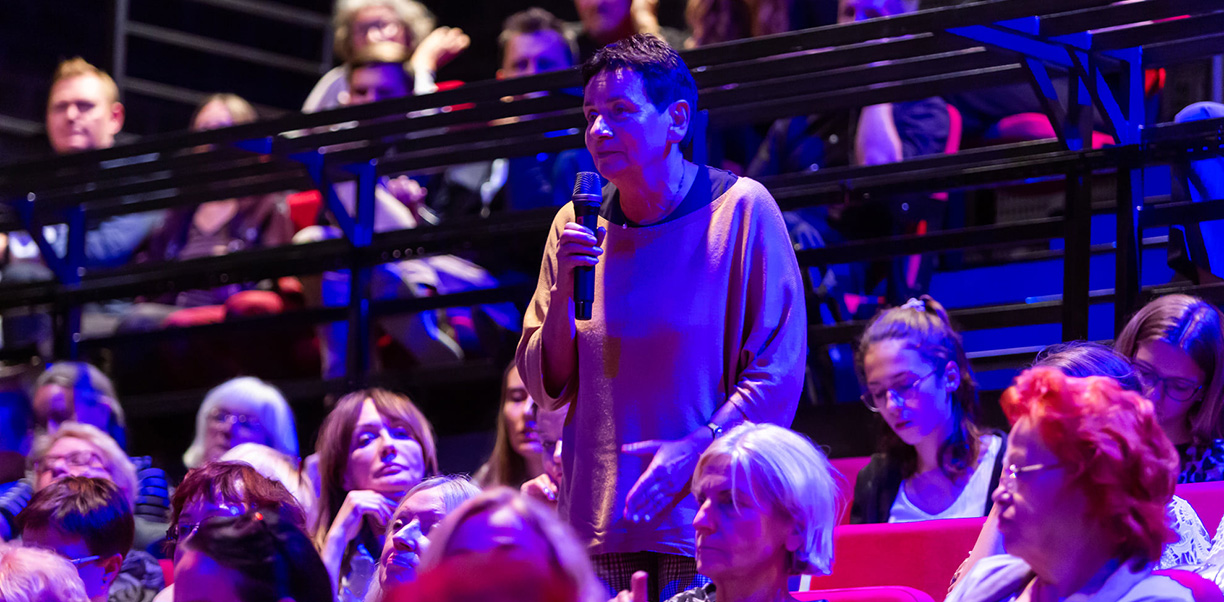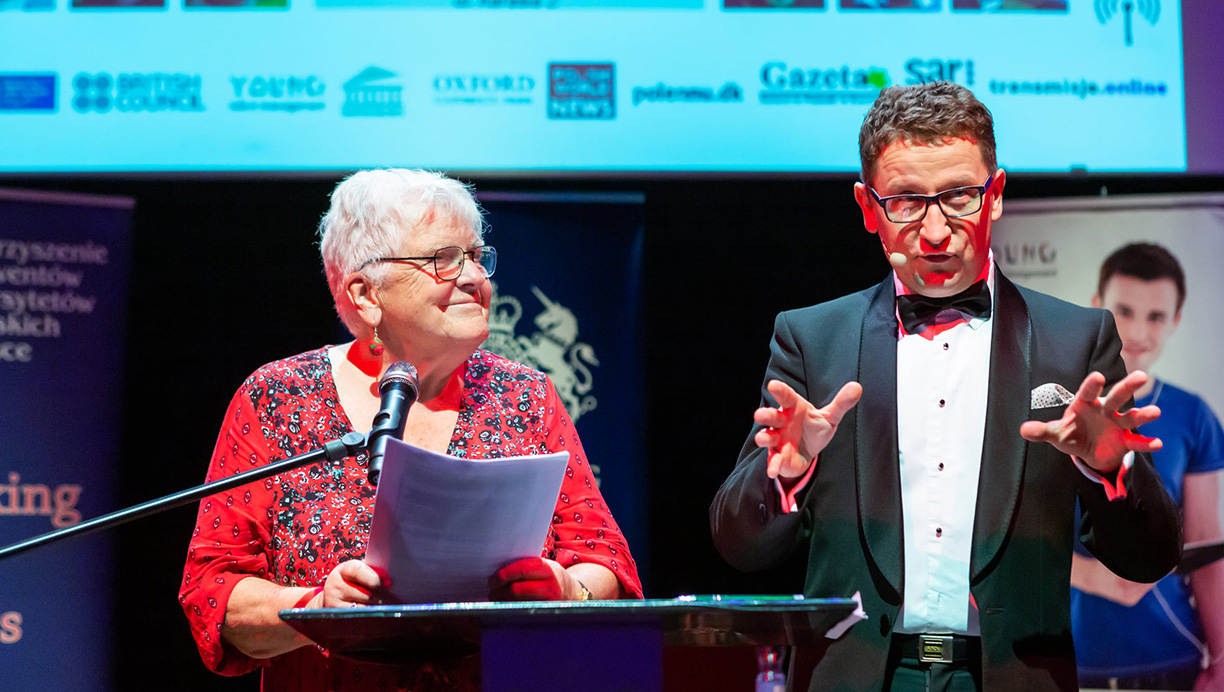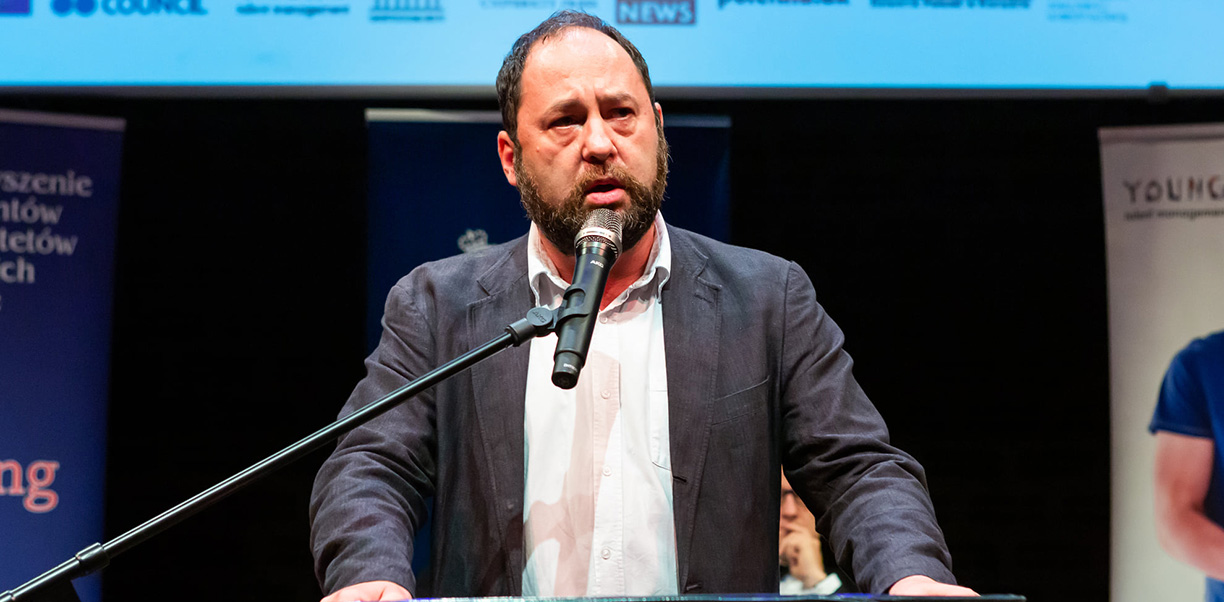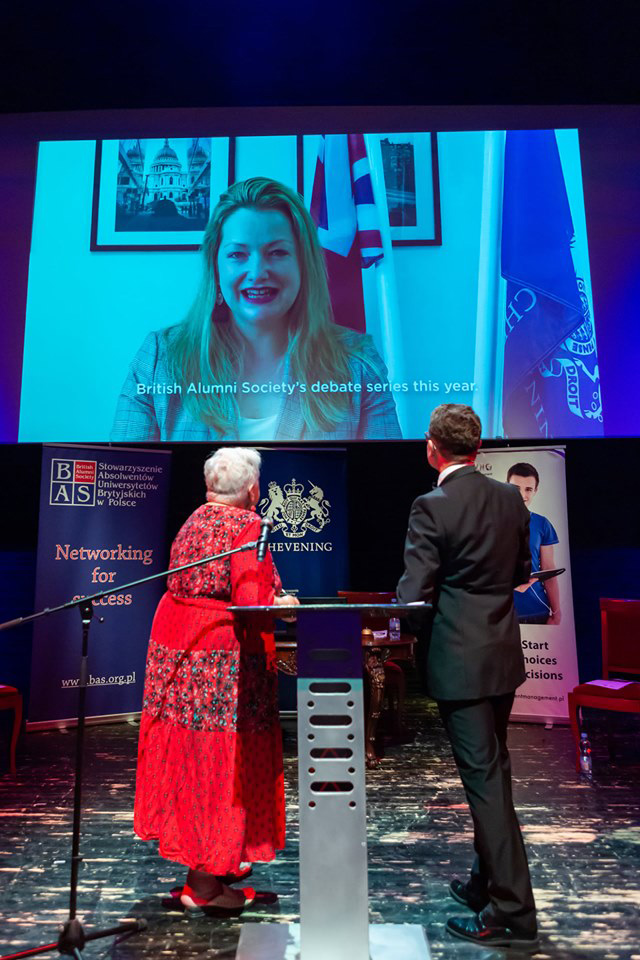 University Destinations 2019
1. Piotr Dobrzyński, Abbots Bromley School – Mathematics, University College London, UK
2. Marta Kisielewska, Mayfield School – Physics, University of Groningen, Netherlands
3. Zuzanna Kotrych, Wrekin College – Education Policy and International Development Queens' College, University of Cambridge, UK
4. Zofia Makowska, Hurst College – Medicine , University College, University of Oxford, UK
5. Natan Marczak, Ellesmere College – Economics and Legal Studies New York University Abu Dhabi, United Arab Emirates
6. Tymoteusz Matusiak, Cranleigh School – gap year
7. Anna Musiał, Bedstone College – gap year
8. Fryderyka Orawczak, Mayfield School – Medicine, Medical University of Łódź, Poland
9. Agnieszka Pituła, Windermere School – Natural Sciences, St Catherine's College, University of Cambridge, UK
10. Radosław Rochowiak, Berkhamsted School – Modern and Medieval Languages, Christ's College, University of Cambridge, UK
11. Weronika Sroka, Abbots Bromley School – Chemistry, University of Edinburgh, UK
12. Weronika Tomiak, Langley School – Medicine, Medical University of Łódź, Poland
13. Joanna Urbańczyk, Bruton School for Girls – Natural Sciences, Durham University, UK

Diploma Gala and Scholars' Concert 24 June 2019
On 24th June the newest scholars, parents, BAS officers and sympathisers met to celebrate the young people's success and the generosity of the UK independent schools who will soon welcome them. Mrs Catherine Firth from the British Embassy has given a short address and presented the commemorative Diplomas. The pretty rooms of the seat of Warsaw Music Society – Pałac Szustra -added to the charm, and so did the Scholars' concert with some expert performances on the piano and cello. And, as always, the tea was excellent. Believe it or not, we have celebrated for the 10th time!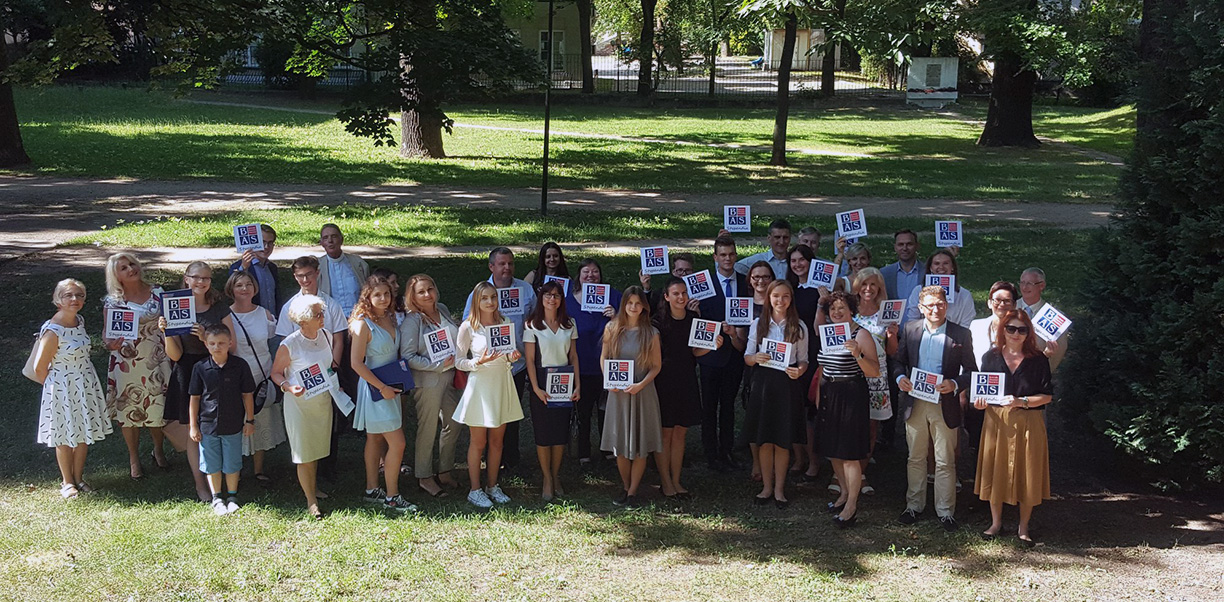 The Royal Castle Gala 8 June
On 8th June BAS held our annual Gala at the Royal Castle in Warsaw, celebrating two events.
The closing debate of the season had as proposition "Hate Speech Should be Punished by Law". The two teams had, as special guests, Mr Andrzej Krajewski and Mr Dariusz Łukawski while Professor Ewa Pierzyk-Zieniewicz and Professor Jerzy Buzek were the Wise Men. The Opposition won.

The Best Teacher of English of the Year Award is a competition BAS runs in partnership with Oxford University Press. For 2018 the statuette went to Mrs Ewa Drobek, a teacher at Żmichowska Lycee in Warsaw. Among other notable achievements she has fostered the "Żmichowska Sings!" scheme encouraging vocal talent among the students. Her pupils added extra glamour to the last year's Gala with their highly professional singing. This year the accompanying concert was beautifully delivered by Miss Julia Wawrowska and Miss Helena Jaworska, one of the newest BAS Scholars.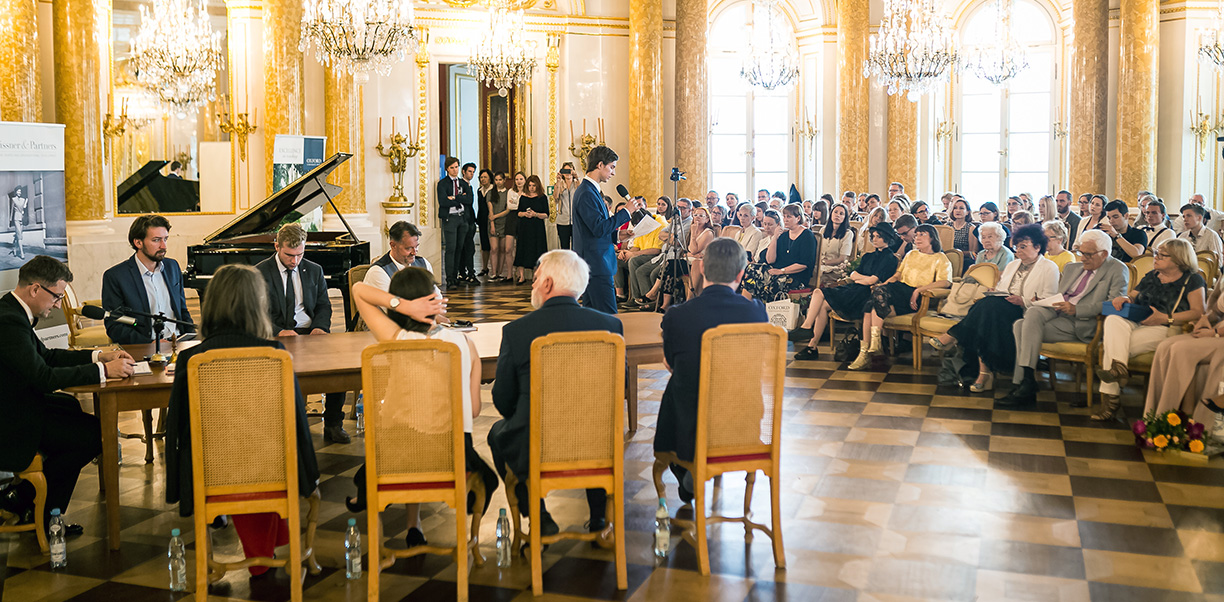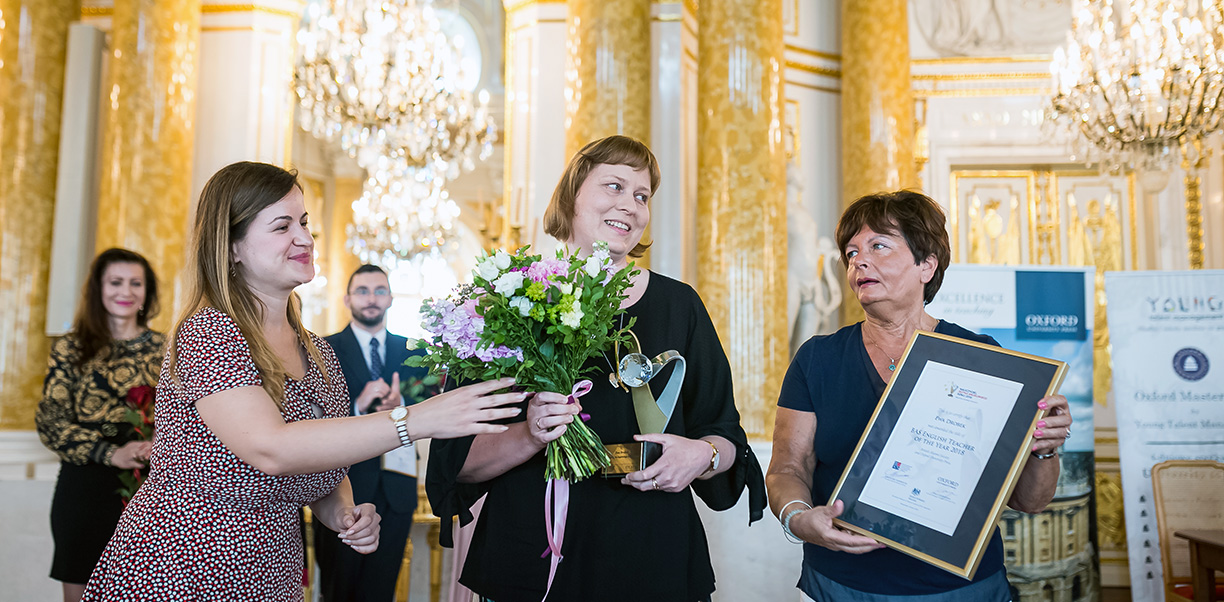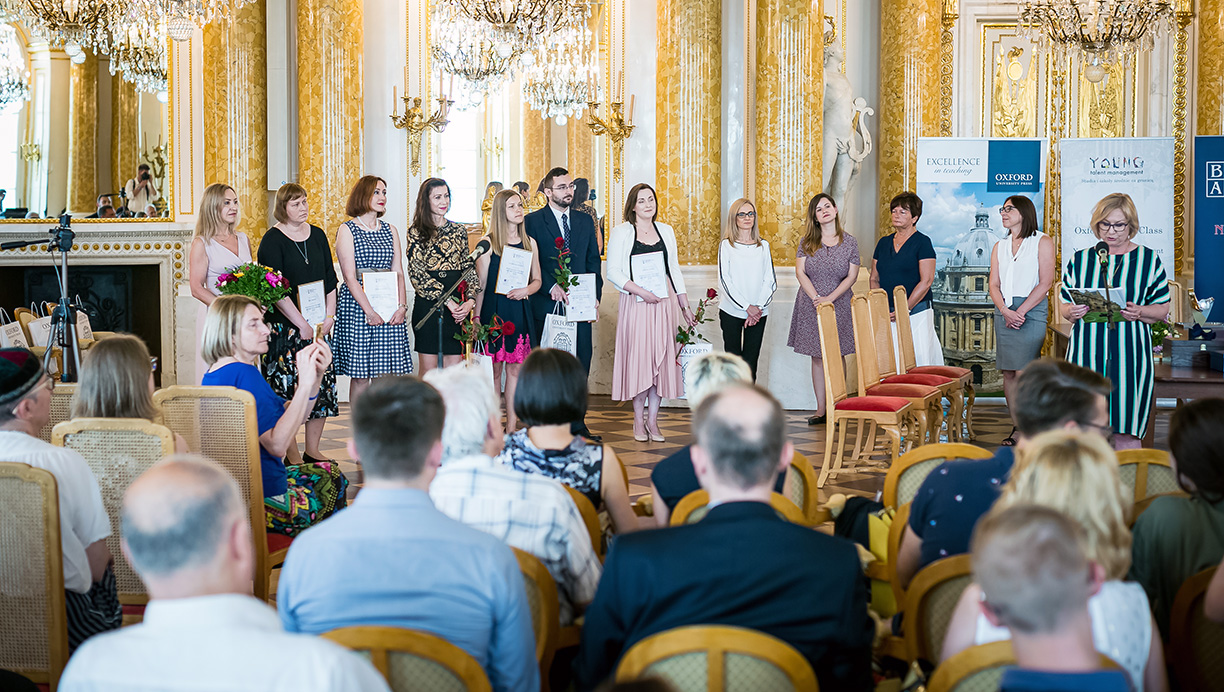 Michał Andrzejewski reports on the 9th edition
of European Financial Congress in Sopot 3-5 June
What can one do in Sopot in June? Drink cold beverages, eat ice cream, enjoy the beach. But maybe also one can do some great networking, learn and have great talks about economics and finance? This is what the participants of the European Financial Congress did. The 9th edition of this annual conference took place in Sopot, between 3-5 June 2019. As every year, British Alumni Society was the event's official partner. The conference attracted over 1500 specialists from the fields of business, economics, finance, technology, and law.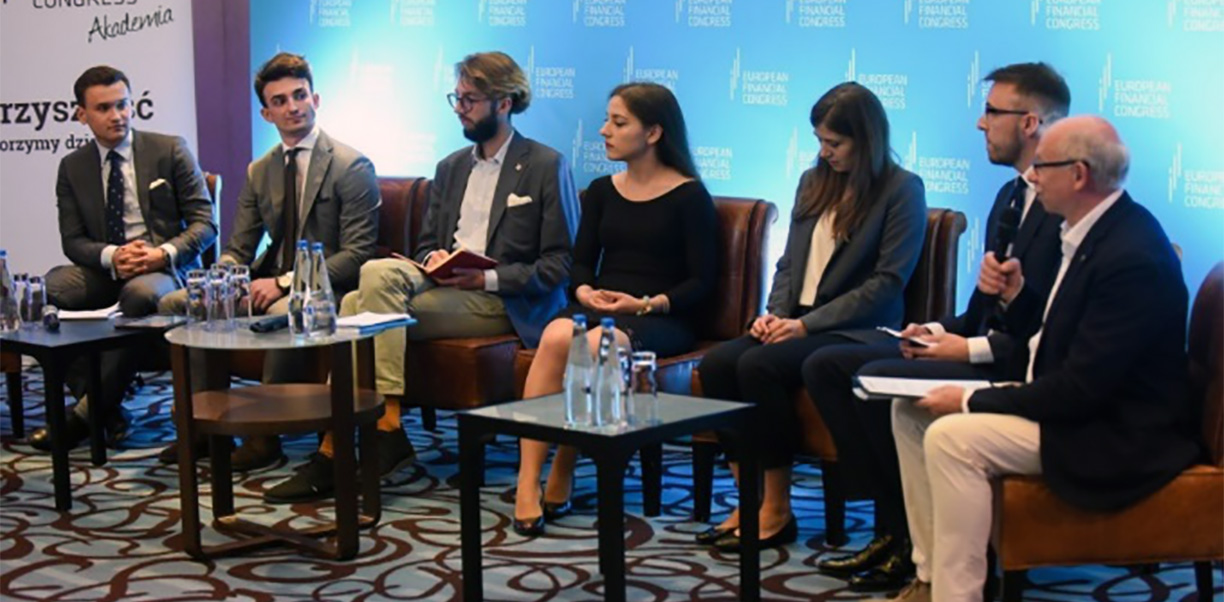 In addition to the networking aspect, many BAS members and our friends participated in the conference and contributed to its success with EFC's main publication, containing essays of the EFC Academy participants. The publications discussed various topics on economics, finance, geopolitics, and FinTech.
The key point of EFC's agenda was the Oxford-style debate whose participants, proposed and endorsed by BAS, discussed the issue of moral hazard in the financial sector. Based on this debate and many other panels, the Congress formulated its annual recommendations for the Polish policy-makers, the business community, and to all sectors of the Polish economy.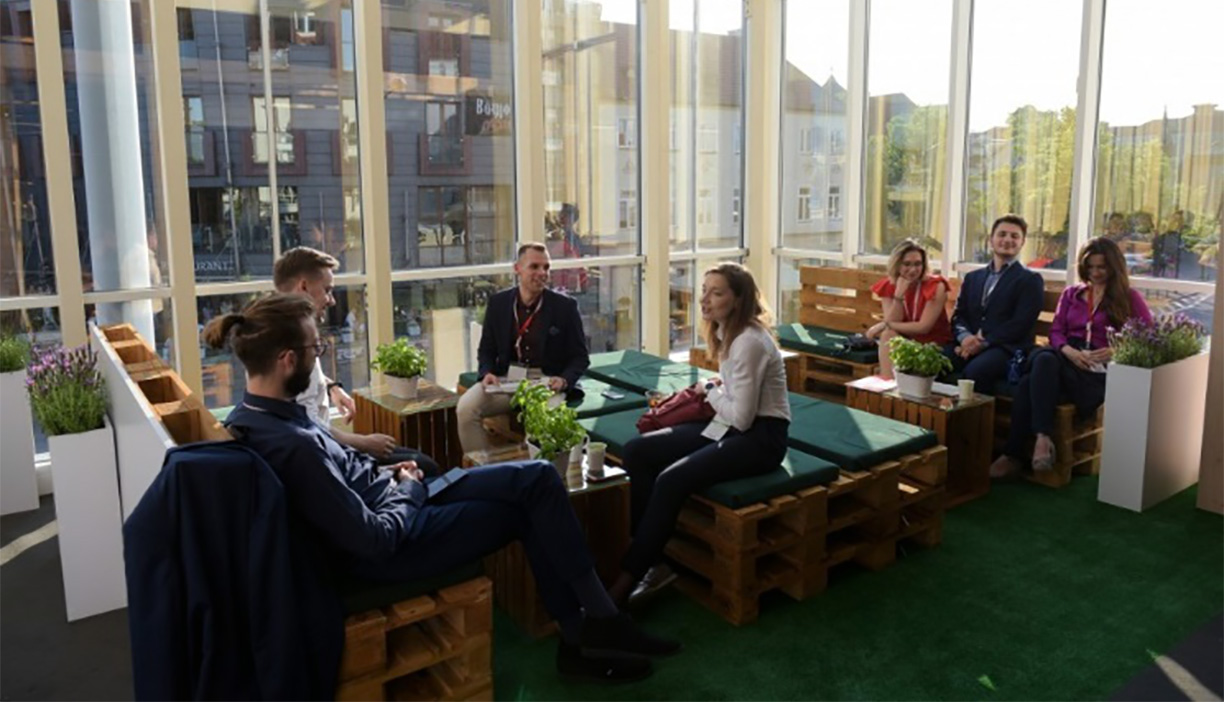 BAS and YTM BECOME PATRONS OF THE START-UP SOCIETY
BAS and YTM are proud to become the first Patrons of The Start-Up Society, together with Newsweek Polska. This is the authentic initiative of the young generation only just beginning to search for their place in social movements and politics. Unlike the junior chapters of political parties The Start-up Society is not steering the young people towards specific electorates. Instead it wants to educate them to become politically aware citizens who choose with discernment.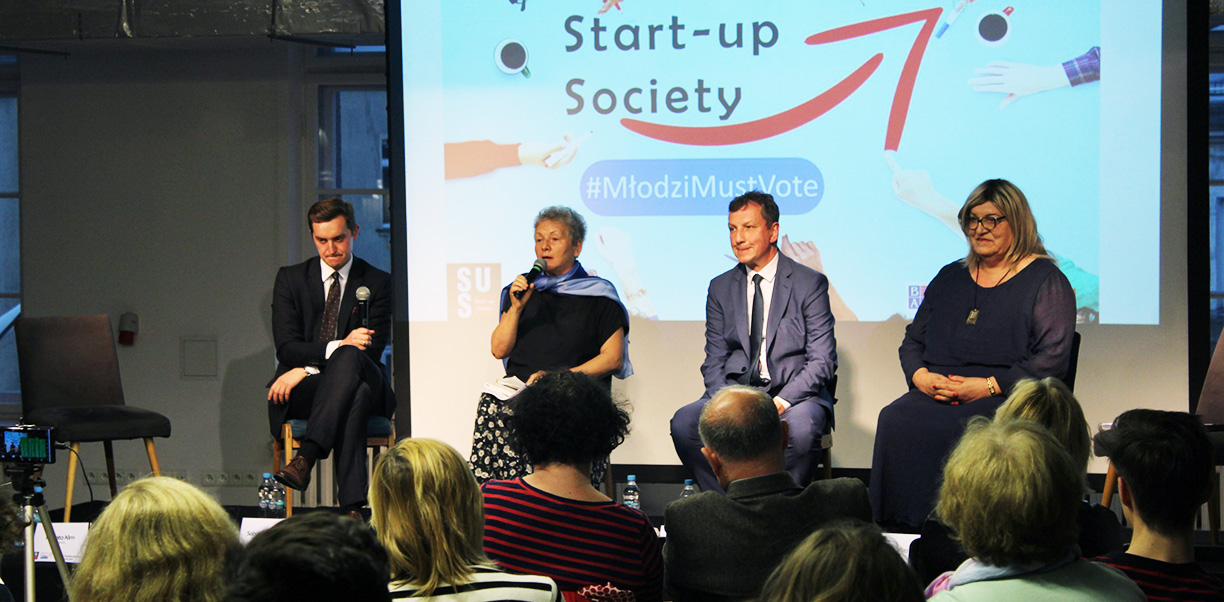 The first activity of the SU Society is #MłodziMustVote, a series of events encouraging the young people to take part in the European Elections on 26th May and then the general election in the autumn. On the 20th May the first electoral meeting at Dom Braci Jabłkowskich brought together over one hundred participants, predominantly teenagers, who came to ask questions to the candidates for the European Parliament. All major political players were represented: PiS, Wiosna, KE and Lewica Razem. Grzegorz Nawrocki, BAS President and Renata Kim from Newsweek facilitated the meeting and both had their hands full as the temperature of the meeting rose steadily.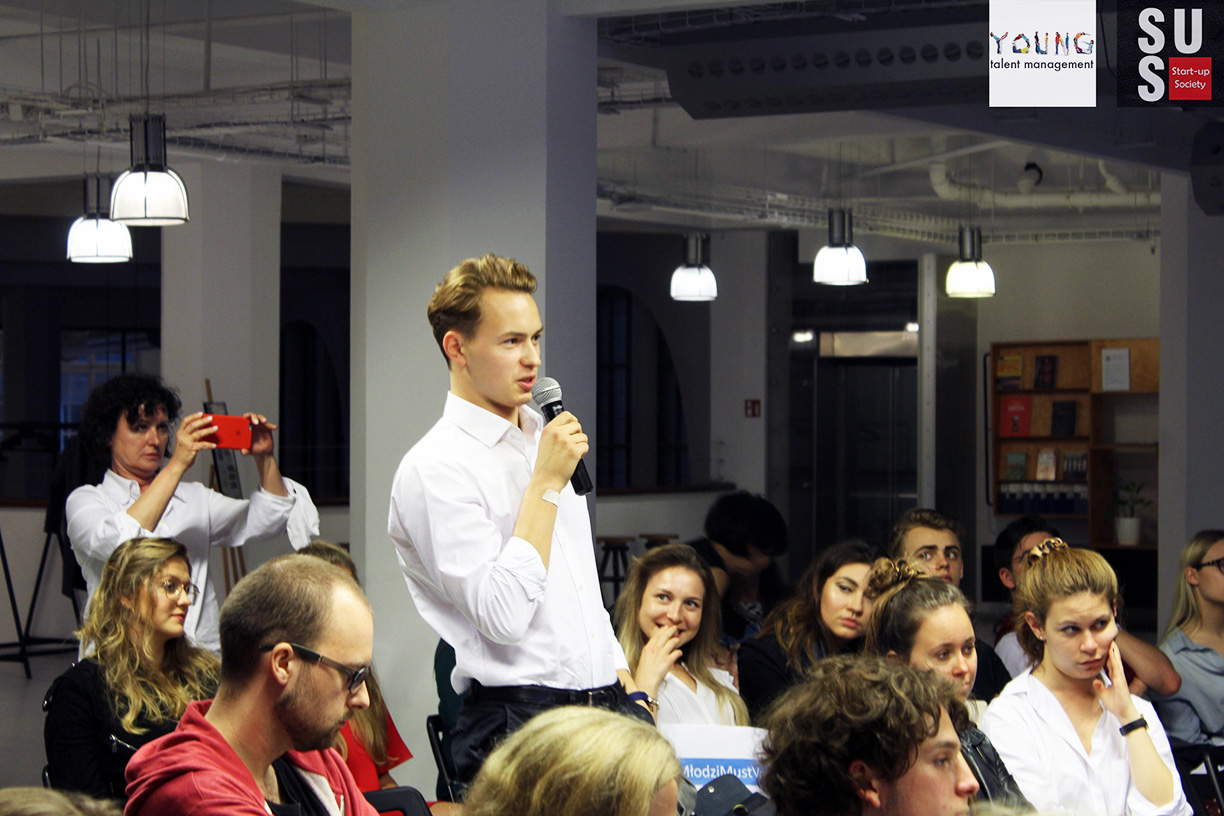 The audience showed their fighting weight and did not make the experience easy to the politicians. Questions about persisiting with a coal based economy, about the need of conflicted political parties to bury their differences when in the PE, about assuring Poland a high international position beginning wjith the PE, occasionally gave the guests a genuine headache. When the meeting ended, the general feeling was of there not being enough time . We wish the Start-Up Society much good luck and hope to see many more actions such as this, very successful first event.
Visit their website:
https://www.facebook.com/startupsociety.mlodziezwpolityce/

RESULTS OF SCHOLARSHIP COMPETITION 2019
Julia Ostaszyk, Ellesmere College – 43,70
Maciej Joachimiak, Ellesmere College – 43,31
Natalia Twardowska, Adcote School for Girls – 43,04
Aniela Brykała, Adcote School for Girls – 39,90
Julia Andrzejczak, Bruton School for Girls – 42,64
Antonina Krynicka, Rye St Antony – 42,50
Kaja Pośnik, Wrekin College – 41,01
Olga Drygała, Wrekin College – 40,69
Helena Jaworska, Mayfield School – 40,16
Bartłomiej Kukliński, Windermere School – 39,17
Zuzanna Małysz, Tettenhall College – 39,10

BAS Scholarship Competition Finale: 27 and 28 April
Last weekend marked our 10th Finale of the BAS Scholarship Competition with 27 finalists hoping to receive one of the 11 scholarship places. On Friday 26, we celebrated with a Reception given in honour of the Headmasters of the independent schools arriving to help with interviewing . It was a very warm occasion, co-hosted by Catherine Firth of the British Embassy and Colm Ms Givern, the newly arrived Head of the British Council, and attended by several BAS scholars, members and well wishers.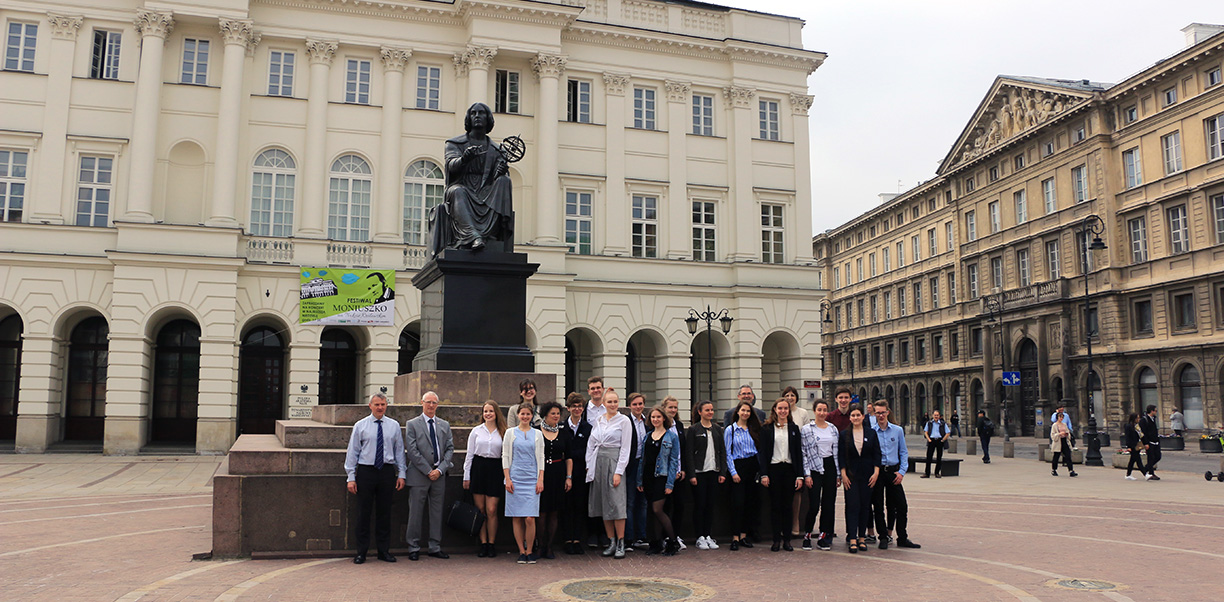 The interviews on Saturday and Sunday , held in the seat of Polish Academy of Sciences started , as our tradition requires, with a photo taken at the feet of the Copernicus monument. After two days of interviewing BAS Selection Committee were deeply impressed with the amount of talent and ambition displayed by our applicants. Although we could not give each of the contestants a scholarship place, we were able to present to all a small souvenir of the day: a book on the English Collocations, courtesy of our valued Partner Oxford University Press.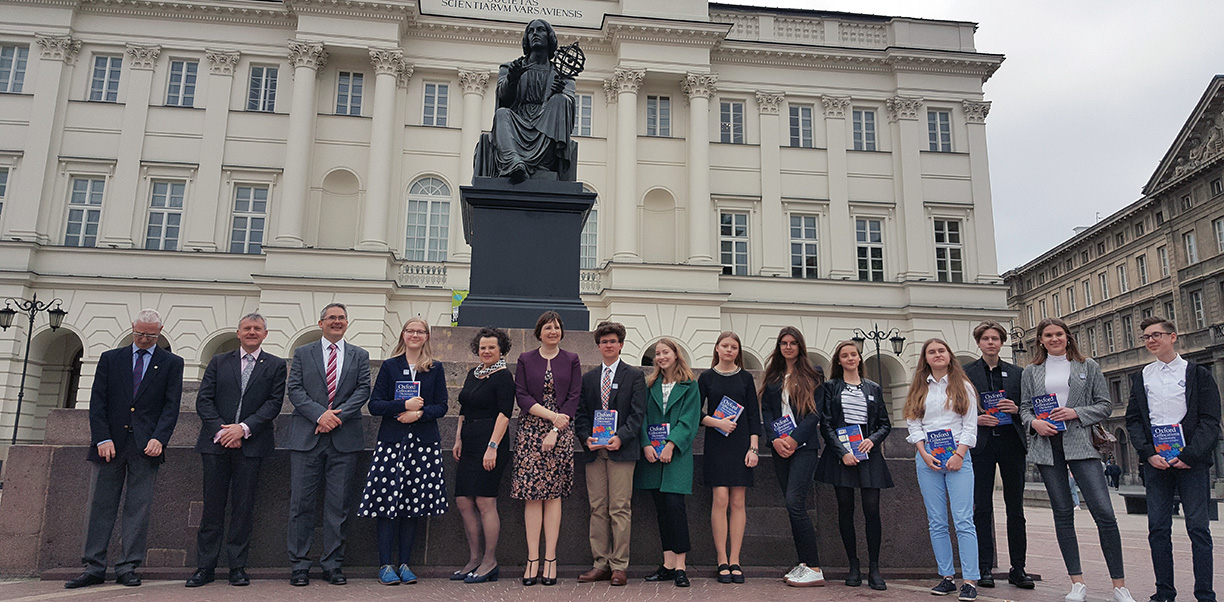 Many thanks go to Mrs Sarah Ryan of Rye St Antony, Jeffrey Shipway of Tettenhall College and Chris Farmer of Adcote School for Girls for their expertise in interviewing, but above all , for the generosity with which they suport our scholarship programme.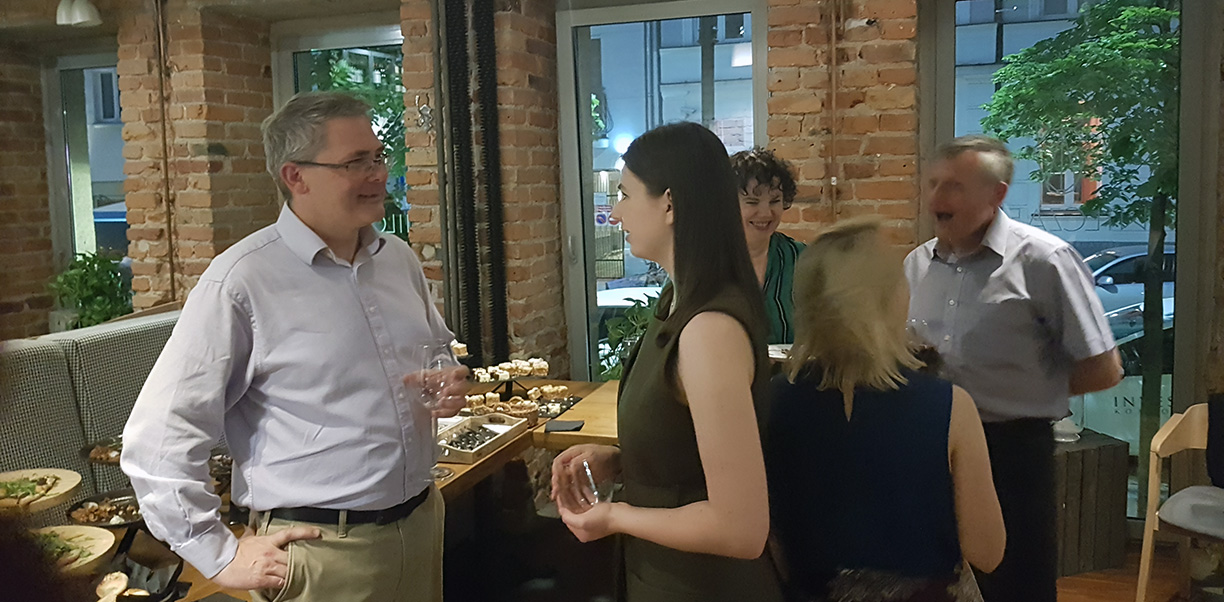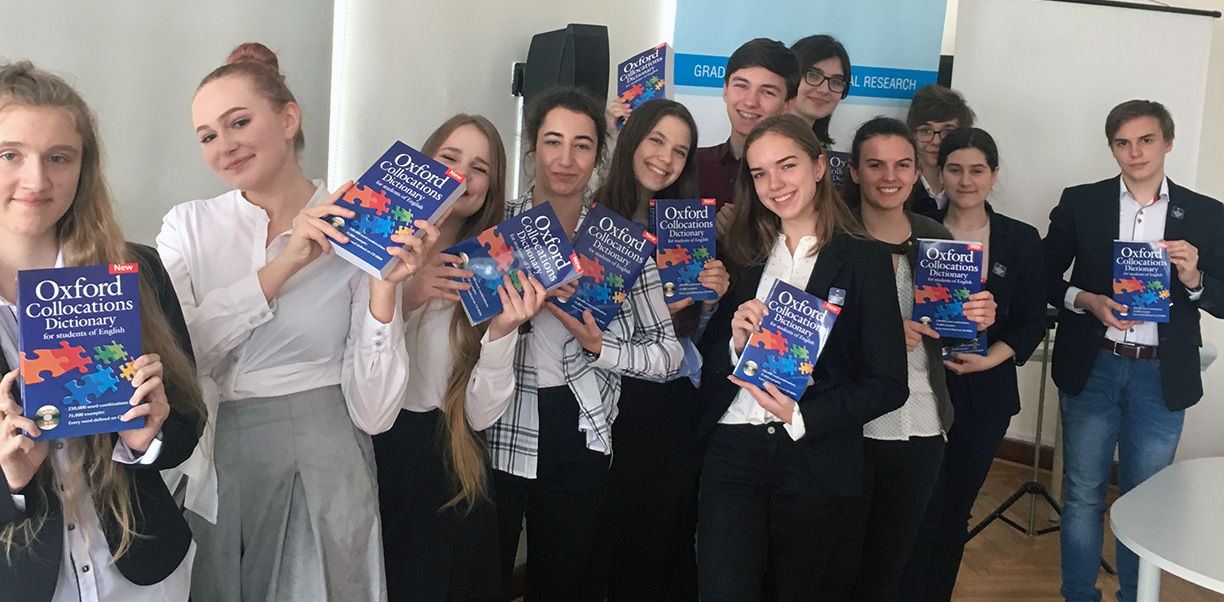 Future Leaders Connect – for the first time in Poland
Our Partner The British Council invites young Poles aged 18-35 , dynamic, active and hoping to influence the future of the world to apply to Future Leaders Connect project.
Two selected applicants will have an opportunity to:
take part in a (free) 10-day leadership workshop in the UK (Moller Institute, Churchill College and Cambridge University)
discuss most proessing global challenges with the British parlamentarians
meet face to face inspiring global leaders
visit renowned institutions
For details, follow this link:
https://www.britishcouncil.pl/future-leaders-connect-globalna-siec-mlodych-liderek-i-liderow?fbclid=IwAR0DJcgcCWjHFTkzUtJZ4IR8utc62pw8lp7Q3ro_Y-lx-IzaFFNjwsqwAMU
Deadline for applications: 6 May. All applicants will profit from gaining access to the Future Leaders Connect network and opportunities shared there.
New Edition of the Best Teacher of English 2018 Award
See details here.
Deadline for Applications is 31st March 2019.
"Impact" Debate at Teatr Polski 24 January 2019
"This House Believes Polexit Would Be a National Tragedy".
Proposition: Wojciech Pszoniak, Marcin Bosacki, Urszula Augustyn
Opposition: Piotr Dudek, Marian Piłka, Robert Winnicki
Chairman: Grzegorz Nawrocki
Secretary: Annie Krasinski
Proposition won.
You may watch it here:
https://www.facebook.com/debatazderzenia/videos/850720208593266/.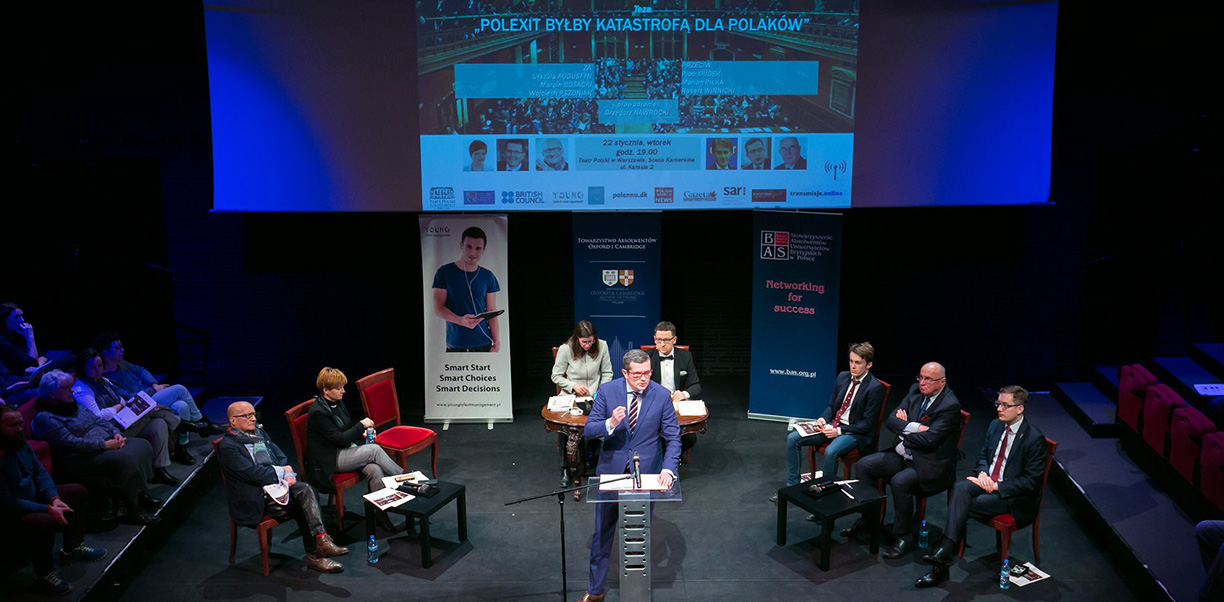 Year 2018 in review
During the Annual General Meeting on 19 Dec. 2018 events of the year were BAS 2018 AGM1.
BAS Scholarship Competition for the years 2019 – 2021 now open
BAS Scholarship Competition for the years 2019 – 2021
British Council University Fair – Study UK 2018, Cracow / Warsaw, 23 and 24 November
On 23 rd and 24 th November BAS took part in the British Council organised University Fair in Cracow and Warsaw. Several UK universities attend, offering information on study conditions in particular institutions. BAS has our own stand every year, dispensing unbiased, first hand information via Skype sessions. Polish students now at UCL, King's College London, LSE, Imperial College, and many others, share their impressions with candidates interested in applying. At the same time they can offer helpful information on BAS Scholarship process, often being Scholars themselves. Several hundred people visited our stand, and some future friendships may have started already.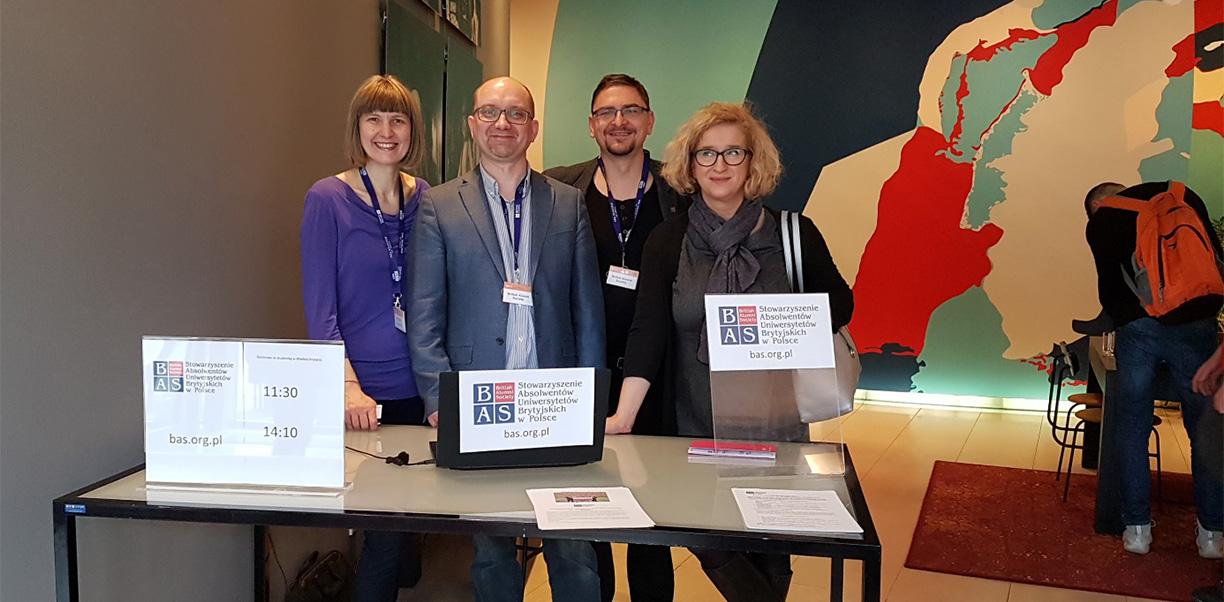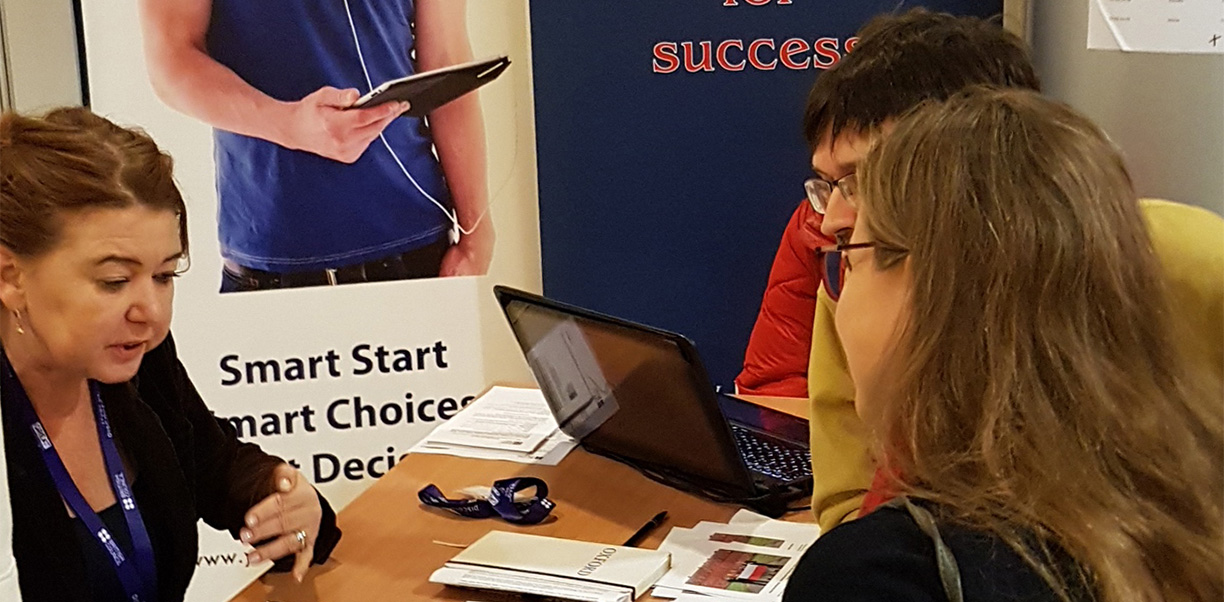 Blockchain Next Conference Warsaw 21 June
On 21st June, in the Conference Centre at the National Stadium, took place an event hailing the technological revolution in the making – Blockchain. BAS was a partner in this ambitious undertaking, created with substantial assistance and involvement of BAS Scholars. The names of Michał Andrzejewski and Jakub Bartoszewski cropped up yet again! Together with Mateusz Mach, the main name behind this project, and several BAS scholars working in various capacities behind the scenes, they put together an ambitious and professional event. Read more here: https://www.rp.pl/Finanse/180619632-Warszawa-przygotowuje-sie-do-blockchainowej-rewolucji.html.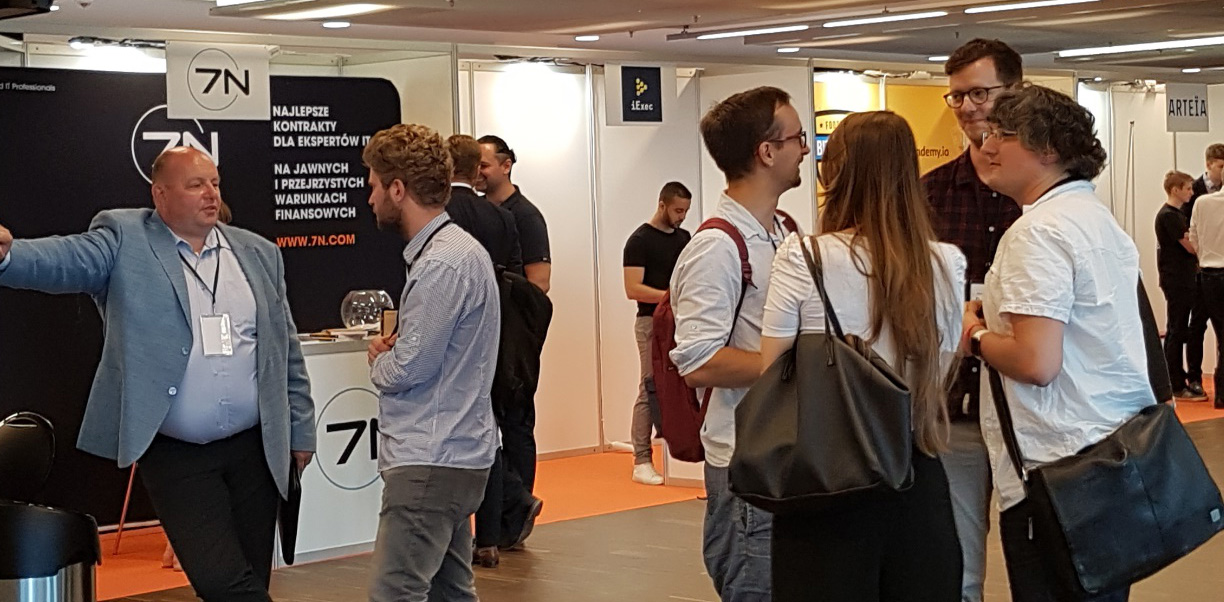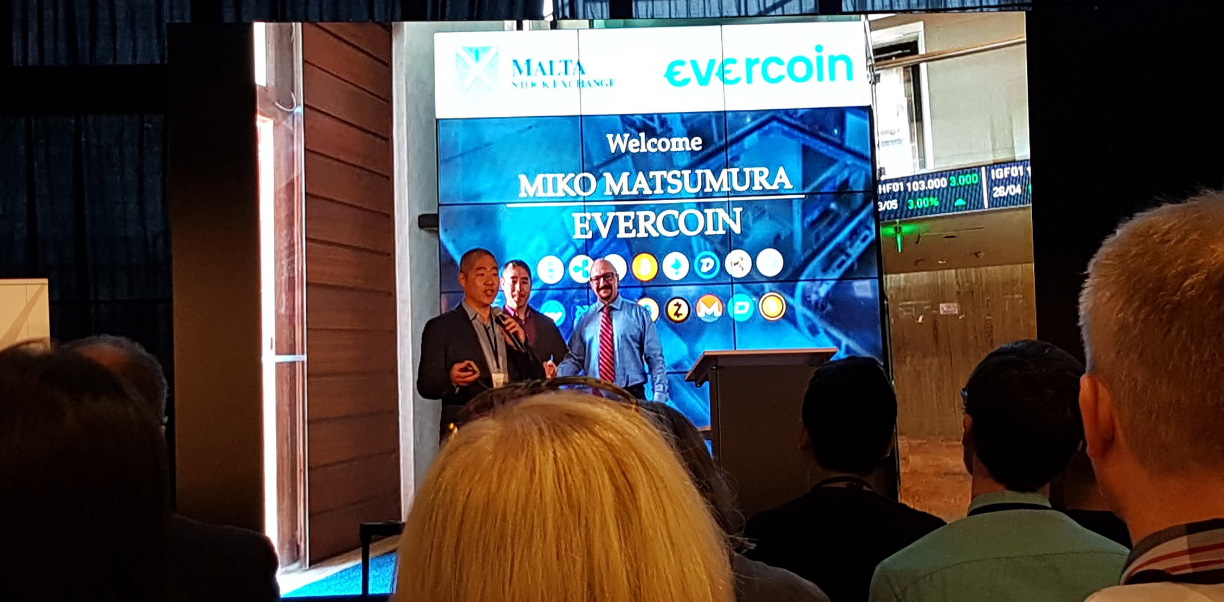 European Financial Congress, Sopot, 17-20 June
This year six former BAS Scholars participated in the Academy and two of them earned a very special distinction of being the authors of the best essays in the annual collection "What would we change in Poland and EU". Michał Andrzejewski and Jakub Bartoszewski presented their essays in the opening event of the Academy and received award for the best paper in the first session of the Congress.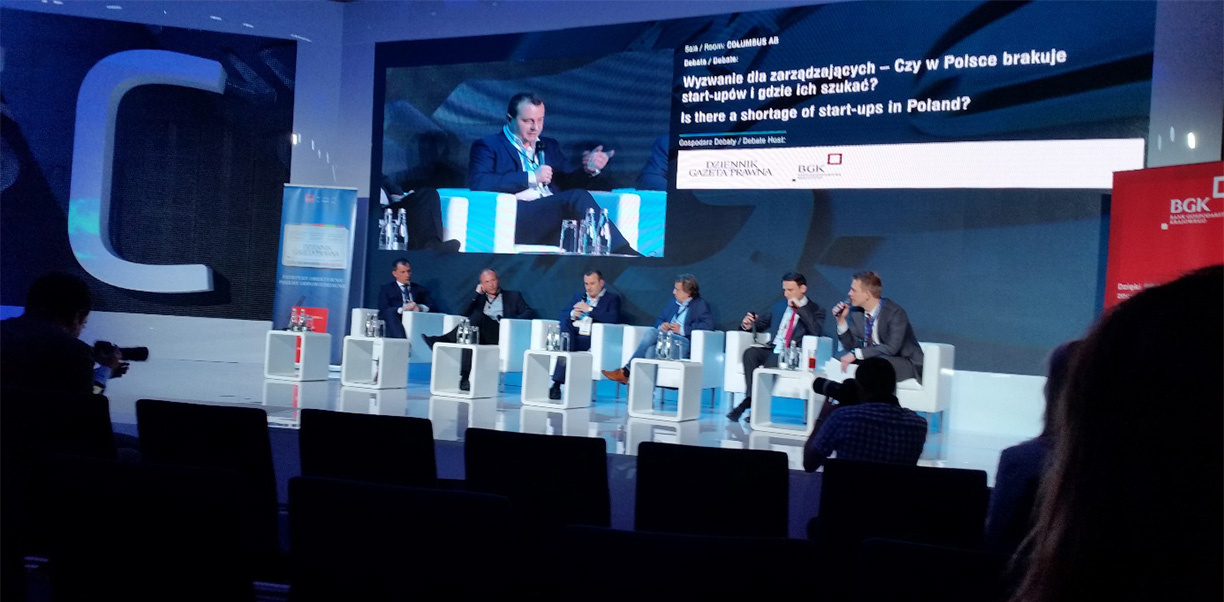 Triple Gala of BAS and Oxford University Press celebrated at the Royal Castle, 9 June
First, the closing Oxford Debate of the Season was held. The proposition was "Imagination is more important than Knowledge". The Proposition Team was backed by Mrs Ewa Bogusz-Moore form Adam Mickiewicz Institute, The Opposition by Mr Tomasz Rożek (Sonda 2 Tv Broadcast). The opposition won.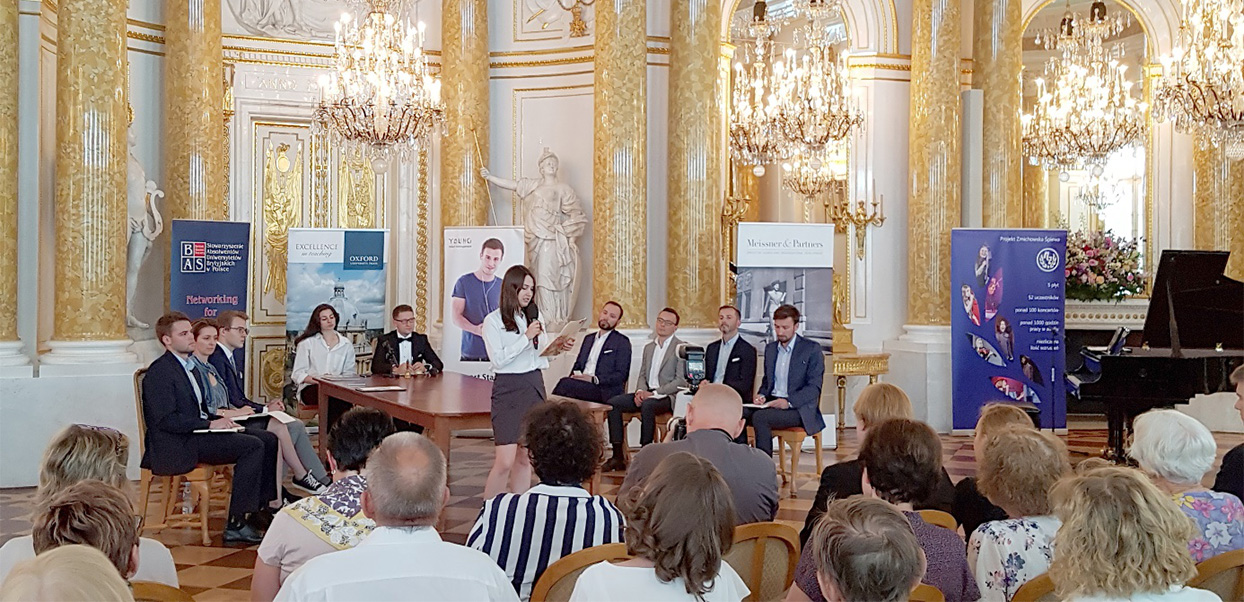 Secondly, the finals of The Best Teacher of English Award. The Best Teacher of English of 2017 were announced for the third time. The winner was Mr Adam Stępiński, the teacher of English in Nichalas Copernicus Lycee in Tarnobrzeg.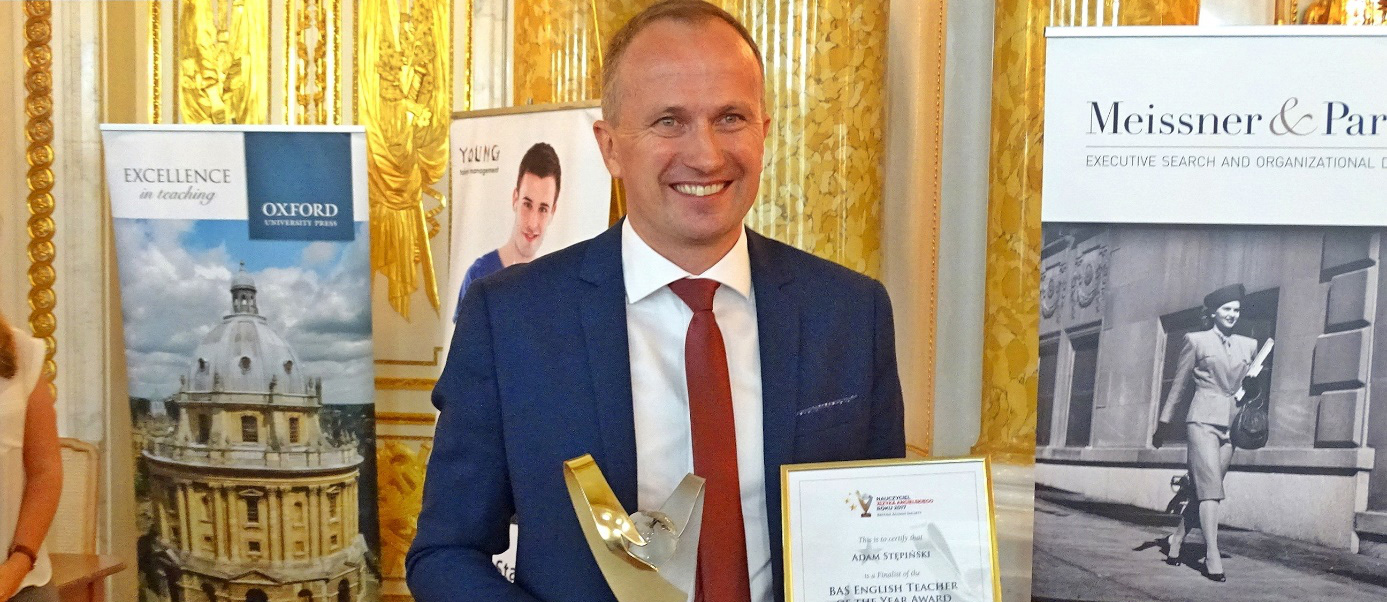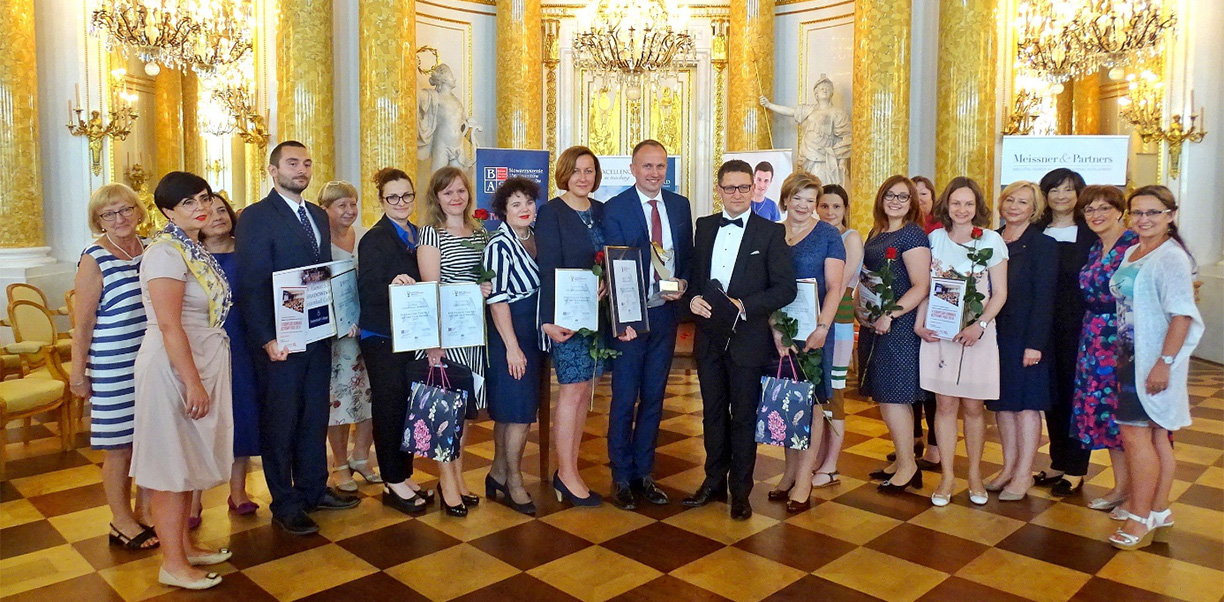 And finally – for the first time – there was "The Great Poles Award". Natalia Aptacy, Michał Błaszczak, Bartosz Jeremiasz, Daniel Klimek, Mateusz Kozikowski, Michał Matyszkiewicz, Martyna Pałys, Karolina Pryga, Martyna Skrzypnik and Patrycja Ziółkowska were the authors of best biograms of Great Poles which will now be published on the Great Poles website www.greatpoles.pland in the publications of Oxford University Press.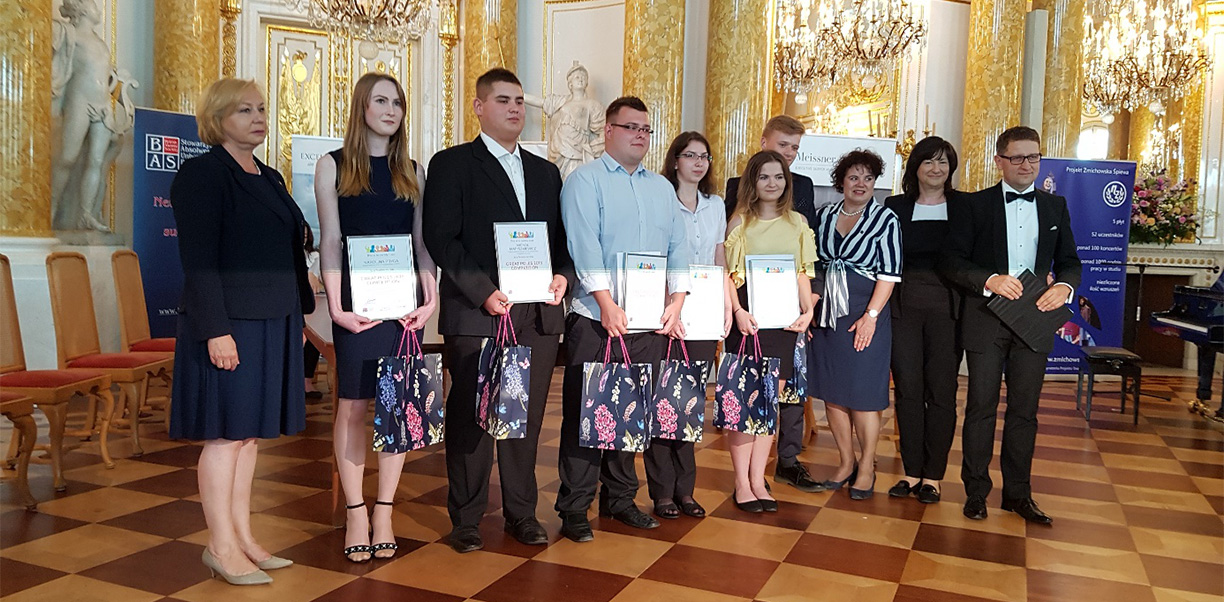 The event was made even more festive by absolutely professional singing of The event was made even more festive by absolutely professional singing of young vocalists from the "Żmichowska Śpiewa": group led by Mrs Ewa Drobek.